WPW STARS ROAD ONE

"A New Era Begins Tonight !"

Informations rapides

Fédération
World Professional Wrestling
Main Event
WPW Championship :
Jack Monroe vs Lord Mefesto
Thème Musical
Star de Hell Yeah

Détails

Pays
Illinois, Etats-Unis
Date et lieu
Le 6 août 2006 à Chicago
Spectateurs
15 051 personnes
Stade
United Center
Critique
The Sun : 7.75/10

Chronologie

Précédent
AWC Glorious Night V
Suivant
WPW Stars Road II
L'édition 2006 de WPW Stars Road est une manifestation de catch professionnel télédiffusée et visible uniquement en paiement à la séance. L'événement, produit par la World Professional Wrestling, a eu lieu le 6 août 2006 au Wells Fargo Center, à Chicago, Illinois. Il s'agit de la 2e édition annuelle de Stars Road.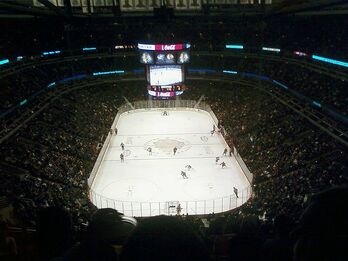 Stars Road est le plus grand PPV de l'année à la WPW, il est aussi l'un des évènements les plus attendu pour tout les fans de ce 
sport. Il est surnommé «The Grestest Event Of 21th Century » (Le plus grand évènement du 21ème Siècle) ou même «The Legendary Stage» (La Scène Légendaire). Ce PPV existe depuis 2000 exactement, il s'appelait à l'époque "AWC Glorious Night", le show a été noté comme étant le plus grand événement de l'année en 2000 et il eu 5 éditions ensuite, la 3e édition attira d'ailleurs 89 123 spectateurs, presque autant que le 3e Wrestlemania mais l'American Wrestling Championship ferma ses portes et eu une extention mondiale en 2006, les grandes stars de l'AWC créérent avec les McCarry la World Professional Wrestling WPW. Stars Road est le fils de Glorious Night.
Une participation à un match de Stars Road, et particulièrement au Main Event, est considérée par beaucoup de lutteurs et de fans comme l'un des plus grands accomplissements d'une carrière et comme un symbole de réussite dans le catch professionnel.
Officiels
Edit
Commentateurs :
Edit
Slam : Ted Carter & Karen Lavar
Annonceur du ring :
Edit
Vic Brawking & Lesly Crews
Interviews :
Edit
Kevin Moran & Harry Birmgalen
Les spectacles de la WPW en Pay-Per-View sont constitués de matchs aux résultats prédéterminés par les scénaristes de la WPW. Ces rencontres sont justifiées par des storylines ou par des qualifications survenues dans les émissions de la WPW telles que Slam, Degenerate ou Extreme. Tout les catcheurs possèdent une gimmick, c'est-à-dire qu'ils incarnent un personnage gentil ou méchant qui évolue au fil des rencontres. Un évènement comme Stars Road est donc un évènement tournant pour les différentes storylines en cours.
Résultats
Edit
No..
Match
Stipulation
Durée
Notes
----
-------------------------------------
--------------------------------------------
------
-----
1
Tilmore & Knoxville déf. Griffin & Pelomino (c)
Tag Team Match pour les WPW Tag Team Championship
13:11
**3/4
2
Dan Welsh déf. Big Grey
Match simple
05:23
**
3
Hector Sanchez déf. Orlando Devon
Last Man Standing
21:36
***1/4
4
Kyle Johnson déf. Rachet (c)
Match simple pour le WPW National Championship
10:02
*3/4
5
Samuel Devon déf. Vince Attano
Match simple
11:31
***
6
Michael Anderson déf. Wamba Shonk
No Disqualification
01:38
1/2*
7
Lord Mefesto déf. Jack Monroe (c)
Match simple pour le WPW Championship
25:09
****3/4
(c) désigne le ou les champions défendant leur titre
Ad blocker interference detected!
Wikia is a free-to-use site that makes money from advertising. We have a modified experience for viewers using ad blockers

Wikia is not accessible if you've made further modifications. Remove the custom ad blocker rule(s) and the page will load as expected.